Shopping Cart
Your Cart is Empty
There was an error with PayPal
Click here to try again
Thank you for your business!
You should be receiving an order confirmation from Paypal shortly.
Exit Shopping Cart
THE GAME OF THRONES SINGLE MALT SCOTCH WHISKIES
Come to the KSMS in March of 2019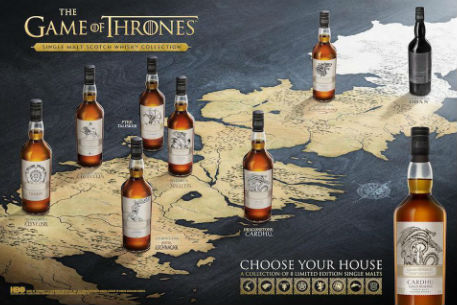 THE NIGHT'S WATCH: OBAN LITTLE BAY RESERVE (SRP $63 | 43% ABV)
Diageo's Notes: The Oban distillery sits beneath the steep cliff that overlooks the bay in the frontier between the west Highlands and the Islands of Scotland, separating land and sea, just as Castle Black, home of The Night's Watch, sits between Westeros and the lands beyond The Wall. The liquid's richness is balanced with a woody, spicy dryness that The Night's Watch could enjoy even on the coldest of nights.
HOUSE LANNISTER: LAGAVULIN 9 YEAR OLD (SRP $65 | 46% ABV)
Diageo's Notes: Lagavulin is one of the most legendary single malt brands and has been crafted on the shores of Islay for more than 200 years – mirroring the meticulous calculation and tenacity employed by the Lannister's in their rise to conquer the Iron Throne. This single malt whisky is a roaring single malt that recalls the Lannister's riches and is best served neat or with a single drop of water.
HOUSE STARK: DALWHINNIE WINTER'S FROST (SRP $40 | 43% ABV)
Diageo's Notes: House Stark's resiliency, strength and ability to thrive under the most intense situations are greatly shaped by Winterfell's frigid temperatures. Dalwhinnie, known for being one of the highest distilleries in all of Scotland, is cold and remote much like The North where House Stark calls home, making the two an iconic pairing. Extreme conditions are responsible for shaping the signature Dalwhinnie Winter's Frost honeyed sweetness and spicy warmth. Naturally, it's best served chilled or over ice.
HOUSE TARGARYEN: CARDHU GOLD RESERVE (SRP $40 | 40% ABV)
Diageo's Notes: Fueled by the same fiery spirit of the fierce female leadership of Daenerys Targaryen, this single malt celebrates legendary women and their unwavering perseverance. The Cardhu distillery was pioneered by Helen Cumming and her daughter-in-law Elizabeth during the 1800s, a time when the whisky industry was almost entirely male-dominated.
HOUSE BARATHEON: ROYAL LOCHNAGAR 12 YEAR OLD (SRP $65 | 45% ABV)
Diageo's Notes: Royal lineage drives the iconic pairing between House Baratheon and Royal Lochnagar. Similar to Robert Baratheon ruling the Seven Kingdoms upon the Iron Throne, Royal Lochnagar was deemed a whisky worthy of a royal family as it was granted a Royal Warrant after Queen Victoria and Prince Albert visited the distillery in 1848. Balanced with delicate fruits and spices, this taste of royalty is best enjoyed neat.
HOUSE TYRELL: CLYNELISH RESERVE (SRP $60 | 51.2% ABV)
Diageo's Notes: House Tyrell of Highgarden rules over the Reach, the lush and fertile region of Westeros. Like the Reach, Clynelish is positioned among green pastures and rolling hills, with scenic views of the North Sea. This vibrant, golden Scotch is light and floral, like House Tyrell, and it's not to be underestimated with its underlying complex combination of Highland and maritime qualities.
HOUSE TULLY: THE SINGLETON GLENDULLAN SELECT (SRP $30 | 40% ABV)
Diageo's Notes: House Tully located at Riverrun, rules as the lord of The River lands. The power of water flows through both House Tully and The Singleton Glendullan Select as it is made on the banks of the River Fiddich in the wooded hills of Dufftown. Here they harnessed the water that flowed through the land utilizing a water wheel to power the entire distillery.
HOUSE GREYJOY: TALISKER SELECT RESERVE (SRP $45 | 45.8% ABV)
Diageo's Notes: House Greyjoy rules the Iron Islands and worships the Drowned God. Talisker was a natural pair for House Greyjoy as this single malt is distilled on the shores of the Isle of Skye, one of the most remote and rugged areas of Scotland. The layered flavors and signature maritime character of Talisker Select Reserve are the result of its wave-battered shores. This liquid is an intense smoky single malt Scotch with spicy, powerful and sweet elements combined with maritime flavors.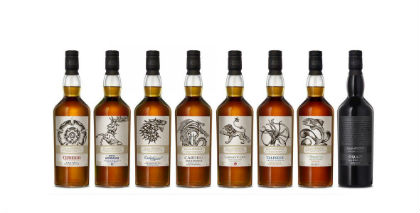 Bill Somerville of Gordon & MacPhail and Frank McDonald of Companions of the Quaich will take you on a tour of Scotland stopping at 6 different distilleries, where you will sample a 100 years of whisky without ever having to leave the Highland Games.Sit back and enjoy each dram and hear about the history and whisky making process of each distillery.Your appreciation and understanding of the industry will grow as you get more exposed to the various influences on the final product; geographic area,method of aging and cask type used. Seating is available at $40.00 per person. Reservations are highly recommended. For more information or to reserve a seat please contact Frank McDonald at [email protected]

The Metcalfe Center (Upstairs)Saturday August 3rd at 2:00pm and 4:00pm
Check out the flyer at GlenGarry Higland Games

Scotch in a Can: Whisky Maker Scottish Spirits adds aluminum siding to liquor
 http://www.huffingtonpost.com/2011/01/02/scotch-in-a-can_n_1175256.html
Source: Huffington Post
1/2/12
Canned haggis isn't the only aluminum-packaged Scottish export guaranteed to raise eyebrows at a dinner party.


Scotch whisky will soon be sold in a can in the United States, putting a liquor prized for its pedigree and price into a humble container known for its affordability and portability.


"There are many brands on the market and most brands are not created equal," Ken Rubenfeld, vice president of operations for Scottish Spirits Imports, Inc., told The Huffington Post. "But most brands are served as equals in a glass type of vessel."

"Having something that's so creatively different -- it piques the curiosity."

Each can of Scottish Spirits will contain 12 ounces -- about eight shots -- of 80-proof "single grain scotch whisky," distilled and matured for three years in oak casks in Scotland, according to Rubenfeld. The company hopes to have its cans on shelves in major American markets by Feb. 1, retailing for $5 apiece.

Packaging a high-end variety of liquor in what is widely considered to be a low budget container sounds like a novelty. But Rubenfeld insists its convenience -- not comic value -- that will drive sales.

"A lot of people like to have beverages by their pool, on their boat, in a campground, at sporting events or tailgate parties," he said. "It's easier to bring a six pack of a beverage verses bringing a bottle of scotch."

For some, canned beverages carry a low-class stigma. But they don't necessarily mean low quality. In recent years, some microbreweries have turned to cans for reasons including cost, drinkability and sustainability.

"They are opaque, they are completely airtight, and the liners are pretty darn good," said Lew Bryson, managing editor of Whisky Advocate magazine. "It is not going to be affecting the flavor. The problem you run into is who is going to bang out 12 ounces in an evening?"

Unlike bottles, cans cannot be closed after they have been opened. That will force Scottish Spirits drinkers to either finish all 8 shots of the blended scotch in a single occasion, or let some of the booze go to waste.

Critics have argued that eight shots of a beverage with the same alcohol content as venerable scotches including Johnnie Walker Blue and The Glenlivet 12 is too many to be sold in a container that can't be resealed.

But Rubenfeld insists his product does not encourage binge drinking, arguing that consumers will know it should be sipped like Dewars, not gulped like Dr. Pepper.

"We want people to be responsible -- this is 12 fluid ounces of scotch whisky and people should treat it as such," he said. "I would think that your readers and most people of common sense would know that that's a lot of alcohol. They'll crack it open and pour it with Coke or some kind of mixer and have fun with it with their friends."

Soon after the beverage's U.S. release, Scottish Spirits hopes to begin shipping the cans with an attachment that allows them to be resealed, however a spokeswoman said the brand has not yet developed a design for a resealable top that meets company standards. (A can sent to The Huffington Post newsroom did not feature any attachment for resealing the drink).

"When the top is perfected, people will maybe have half a can with their friends and save the rest," said Rubenfeld.

Nearly a year ago, an organization that oversees scotch whisky manufacturing had harsh words for Scottish Spirits, claiming its canned beverage might not qualify as real scotch.

Rubenfeld says his company, which maintains an office in Fort Lauderdale, Fla. and is part of a larger company based in the Cayman Islands, has "worked diligently to meet every requirement" outlined by the Scotch Whisky Association and codified by 2009's Scotch Whisky Regulations.

Campbell Evans, a spokesman for the SWA, could not immediately confirm that Scottish Spirits has achieved certification as a true scotch whisky, stating he has not yet examined the beverage.

But Evans says the packaging isn't the problem.

"There is no reason why a product that is a genuine Single Grain Scotch Whisky cannot be sold in a can," Evans said.

Some whisky experts have reservations about the packaging, but Brad Danler, general manager of the Brooklyn, N.Y. whisky bar and restaurant Char No. 4, says it's what's on the inside that counts.

"I understand why beer makes sense going back into cans, but with whisky it's certainly a surprise," said Danler. "I can't say that it makes much sense to me, but if it is delicious, then I will gladly crack one open and enjoy 12 ounces."
Review: The Black Grouse
October 28th, 2010 - John Hansell
The Black Grouse, 40%, $29
One might assume this to be just a smoky version of the standard Famous Grouse (with its honeyed malt, bright fruit, and floral demeanor). But, in addition to the enhanced smoke (which caringly adds a new dimension without smothering the other flavors), there also seems to be more malt body and oak spice in the mix, which I think takes Black Grouse to a higher level than Famous Grouse. The grain whisky contributes a "drinkability" component, making it a great introduction to smoky whiskies. Advanced Malt Advocate magazine rating: 86
From The Scotch Blog

By Ryan on August 16, 2010 9:13 PM
On my way to North Carolina, I discovered this sweet liquid in the Toronto International Airport Duty Free Shop. Matured in old bourbon and married in oloroso sherry casks, Highland Park created this expression strictly for the "global travel retail market."
Had I known at this little tidbit at the time I would've picked up an extra bottle! 
Regrettably, the 1 litre bottle lasted me about a week and if you're fortunate enough to find it during your travels: buy two and squirrel one away.
Nose: Citrus peel, cereal, hints of smoke.
Palate: Soft and almost creamy mouthfeel flavoured by honey-sweetened malty cereal and tingling citrus with smoke arriving just before the finish.
Finish: Delicate smoke and peat are wrapped in a long-lasting, sweet and mouth-filling sherry finish.
Overall: Pleasantly light, well-balanced and smooth this whisky did me wonders on the veranda at Holden Beach, North Carolina, this past week. Terrific with pecan pie, this "Island-infused" dram kept me company on long walks on the beach at night and, of course, it is best enjoyed with a tiny splash of water to really bring out the aromas.  
Highland Park discontinued the 16 yr in April of this year, so if the notes above pique your interest, act fast.
One of the crates of the Scotch whisky that was trapped in Antarctic ice for a century was finally opened Friday, Aug. 13, 2010 but the heritage dram won't be tasted by whisky lovers because it's being preserved for its historic significance. (AP / Antarctic Heritage Trust)
The Associated Press
Date: Friday Aug. 13, 2010 10:59 AM ET
WELLINGTON, New Zealand — A crate of Scotch whisky that was trapped in Antarctic ice for a century was finally opened Friday — but the heritage dram won't be tasted by whisky lovers because it's being preserved for its historic significance.
The crate, recovered from the Antarctic hut of renowned explorer Sir Ernest Shackleton after it was found there in 2006, has been thawed very slowly in recent weeks at the Canterbury Museum in Christchurch on New Zealand's South Island.
The crate was painstakingly opened to reveal 11 bottles of Mackinlay's Scotch whisky, wrapped in paper and straw to protect them from the rigors of a rough trip to Antarctica for Shackleton's 1907 Nimrod expedition.
Though the crate was frozen solid when it was retrieved earlier this year, the whisky inside could be heard sloshing around in the bottles. Antarctica's minus 22 Fahrenheit (-30 Celsius) temperature was not enough to freeze the liquor, dating from 1896 or 1897 and described as being in remarkably good condition.
This Scotch is unlikely ever to be tasted, but master blenders will examine samples of it to see if they can replicate the brew. The original recipe for the Scotch no longer exists.
Once samples have been extracted and sent to Scottish distiller Whyte and Mackay, which took over Mackinlay's distillery many years ago, the 11 bottles will be returned to their home — under the floorboards of Shackleton's hut at Cape Royds on Ross Island, near Antarctica's McMurdo Sound.
Whisky lover Michael Milne, a Scot who runs the Whisky Galore liquor outlet in Christchurch, described the rare event as a great experience.
"I just looked at this (crate) and honestly, my heartbeat went up about three paces. It was amazing," he said. "The box was like a pioneer's box with the wood and nails coming out," he said.
Although Milne said he'd give anything to have a taste of the whisky. "It is not going to happen and I am not going to get excited about it," he said. "But if there was ever an opportunity, it could be a wonderful one to have."
Nigel Watson, executive director of the Antarctic Heritage Trust, which is restoring the explorer's hut, said opening the crate was a delicate process.
The crate will remain in cold storage and each of the 11 bottles will be carefully assessed and conserved over the next few weeks. Some samples will be extracted, possibly using a syringe through the bottles' cork stoppers.
From Article on CTV at:
http://www.ctv.ca/CTVNews/TopStories/20100722/frozen-whisky-100722/

/